The Certified Events Manager Programme
Introduction to the programme
Based on our research, we realize the need for a practical training programme on event management for those involved in corporate events. When we were at school, we were not taught how to organize and manage events and yet, when we join the corporate world, we are often asked to organize such events, whether on small or large scale and most of the time, without proper guidance and training. Most of us developed our skills from those days when we were involved in extracurricular activities.
This is an opportunity to learn the systematic approach to events management. You can thus improve your organizational skills in managing your company or client's corporate events and to demonstrate to your superiors or clients…your abilities in event management. You can also go for the certification and be recognised as professional event manager with the title "Certified Event Manager".
Objectives
The participants will get 1st-hand knowledge from experienced practitioners in Events Management. Some of the learning objectives of the workshop include:
Understand and appreciate the Event management process flow and all key aspects of events management…including applications from research and planning for successful implementation to managing risk, budget and evaluation and many more
Understanding and implementing The 5W2H system
Understand the importance of project management skills
Understand resources and suppliers management
Understand how to manage speakers and delegates
Understand the basics of sponsorship management
Understand the business of events management including marketing and financials
Participants will leave the workshop with a system and templates that they can apply immediately at work and they can start planning and organising events.
Programme Structure
Participants can take upto 9 months to complete the programme and or as early as 6 months depending on how fast they can complete the practical assignment in order to be certified as CERTIFIED EVENT MANAGER.
Overview of the structure:
Phase 1 – Training

2-day face-to-face practical and interactive workshop
5 evening seminars on specific topics
Phase 2 – Coaching

6 monthly group coaching sessions (skype/face-2-face)
Phase 3 – Practical & Assignments

1 main project submission
1 event audit assessment (where we audit your live event)
Programme outline for the 2-day workshop on "How to Manage Corporate Events Successfully"
Part A: Overview
Event Management Process
Event's Brief
Financial Management
Setting up project team
Introducing the 5W2H concept
Applying 5W2H techniques
Part B: Stage 1 – Concept/ Idea Generation/ Research
Sources of ideas
Techniques for generating ideas
Brainstorm
Research
Environment scan
Feasibility studies
Cost-benefit
Group Exercise 1
Part C: Stage 2 – Planning
5W2H at strategic level
Marketing strategies
Sponsorship/ Strategic Alliances
Public/ Media Relations
Budget
5W2H at tactical and control level
Scope of services in event management
Control
Group Exercise 2
Part D: Stage 3 – Implementation
Preparation phase
Open for registration
On-site management/logistic
Post-event activities
Applying project management skills
Working effectively with 3rd parties
Registration management
Operations checklist
Group Exercise 3
Part E: Stage 4 – Control/ Evaluation
What can go wrong?
Potential problems analysis (PPA) – Marketing
Potential problems analysis (PPA) – Operations
Evaluation
Post-mortem/ Debrief
Managing Reports/ Tracking
Group Exercise 4
Follow-up evening sessions to cover topics include:
Events Planning Documentation
Events Financial Management
IT for Events Management
Events Sponsorship
Marketing of events
Public relations management & press conference
Methodology
The workshop is very practical, fun and interactive in nature. Besides having lectures to help you (participants) get some key knowledge and theories, there will be many practical group exercises, games, simulations and mock-up sessions which will allows you to practice and demonstrate your knowledge and skills on the spot. We will then provide feedback so that learning takes place immediately. You can also opt to attend the follow-up sessions depending on your own needs and requirements.
The coaching will be based on actual work that you will be doing back in your company and the project assignment and events audit will be based on real-life events happening in your company either internal or for your clients. In the event that you are not able to do so, we can arrange for you to be involved in organizing and managing an actual event for our company as part of your practical and for you to complete your assignments.
Certified Professional Emcee/ Master of Ceremonies (CPE/CPMC)
Introduction to the programme
The Master of Ceremonies (generally known as Emcee or in short MC) is the "conductor" of an event or meeting. The primary responsibility of the Master of Ceremonies is to serve as a genial host. An ideal MC is a person who has poise, presence and who can command the attention of an audience.

The Master of Ceremonies is responsible for ensuring that the program/event runs smoothly, runs on time and that all the important people at the event are introduced in a complimentary, professional manner. Being a successful Master of Ceremonies requires preparation, a friendly manner and the ability to adjust or to ad-lib as necessary to ensure a successful event.

Finding the right people to put on stage as the host of your event is really, really important. You've got to have the right personalities and presence on stage as you continue to thread the theme or series through the night. It is often said that the MC can make or break your event on the day itself.

Being the MC can be a wonderful responsibility, both for the individual and for their company. In fact every company would really need someone internal and can even train a few of their employees to do some of the smaller or easier emceeing jobs for their own events instead of outsourcing each time, especially for smaller scale or internal events. They can learn to handle internal events efficiently and thus may even save the company some additional expenses.

At the same time, this workshop will be a good learning ground for personal development and to enhance yours or your staff's capabilities in this area. You may just discover the hidden talents in you and/or the gem that you are to your organisation!

Those who are keen to enhance their credentials and proceed in this career can apply for the Certification programme as "Certified Professional Emcee", certified by IPMA, UK (International Professional Managers Association, UK)
Why You Should Attend/ Why you should send your staff to attend
7 reasons why you would want to attend this workshop
Learn 1st hand from the professionals who have done it and made it! You don't need to make the same mistakes by learning from others
A systematic approach to being the Master of Ceremonies, leaving no rooms for errors when it comes to preparation and on-site performance. Leave with system and documents to get you started as the MC.
A dynamic learning environment to practise and get constructive criticism for better performance. Live simulated mock-up for more effective learning. Get evaluated on the spot!
You will learn not just the skills of being a professional MC but also how to manage on-site crisis and how to work with 3rd parties to ensure a successful event.
Learn not just from us but from our guest speakers who are experts in their respective field. We will have guest speakers to share on their experience as MC and also on other areas of events that can have an impact on your performance as the MC
Opportunities to learn or practise at live events and to upgrade yourself professionally as a Certified Professional Emcee
Be a part of a community of MCs and Event Managers for sharing and learning. YOu will have access to our resources and coaches to ask for help when needed!
Objectives
About the programme and its learning objectives
This 3 - 6 months programme is for anyone who would like to learn to be a Master of Ceremonies, in a professional way and to gain a certification as "Certified Professional Emcee". We will help to bring out all the hidden talents of yours; encouraging you to perform beyond what you thought was your limit. This workshop and the programme will be full of illustrations and practice.
Some of the learning objectives from the workshop include:
The 3P's of being an emcee. That is Prepare, Practise and Perform
How to handle pre-event requirements and how to ask for information that can help you to perform better
How to structure the script for an event and the methods to address the audience
How to manage the use of language, pronunciations & enunciations of words
To master the proper use of equipments especially with the microphones and sound system, including how to conduct sound test
How to make the audience feel at ease and to create the mood for the event
Trouble-shooting of problems during an event and crisis management
Understanding how to use certain key documents or checklist and how to work more effectively with all parties involved so that you can give a good show
On-site coordination and operation issues including how to manage or organise special needs or sessions during events, eg how to ensure an effective lucky draws session
And most of all, giving the audience a great time.
Some of the learning objectives from the coaching and certification programme include:
To practise what you learned from the workshop in both stimulated and real live events as either the co- or main emcee of the event
To be coached and further improve on areas that needs improvement
To realise, tap and develop hidden abilities as this coaching is very individual based
Programme Contents
The programme consist of 3 parts:
Phase One - 2-day skills-based training workshop
Phase Two - Individual Coaching and/or small-group Clinic (3 sessions, face to face by via online) - 2 written assignments
Phase Three - Practical Assignment - live event emceeing (to be assessed on actual live presentation as emcee for a real live event)
What we will cover for this 2-day workshop
Who should attend and what you will get
Who should attend
Staff who often have to emcee own company events
All those who want to know how to emcee professionally
All those who aspire to be professional MC
What you will get
You will get 1st-hand knowledge from experienced practitioners who are professional MCs in their field
A systematic approach to being an effective MC with proven system consisting of templates and checklist
You will be given a copy of the recordings done on your presentation assignment at the workshop for future review
You get to practise what you learned on the spot and be evaluated.
Learn not just from our trainers but also from our guest speakers who are experts in their field.
Post-event email coaching (3 months) - You can continue to ask even after the workshop, especially when you go live!
Online community of MCs & event managers with forum, blogs, and on-going articles of interest, for sharing and networking
We can provide you with live on-the-job training opportunities with our on-going events, if required.
You will get the Certificate in Attendace to show that you have attended the 2-day workshop
For those on certification programme, will get a UK-based professional certification as "Certifed Professional Emcee" provided by International Professional Managers Association, IPMA, UK that comes with one-year IPMA, UK membership for continuining education.* payment applies direct to IPMA,UK
Certificate in Brand Management/Certified Brand Strategist
Introduction to the Brand Mastery Programme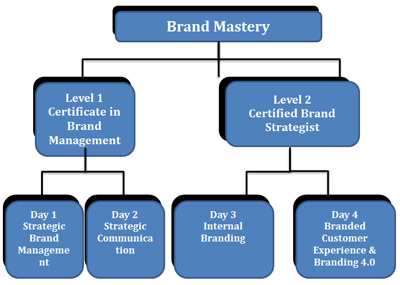 The Mastery that gives you THE edge against your competitors, and helps you win the heart of your customers.
The market today is a fierce battlefield, with numerous competitors and new technology that can shape your steps and decisions. Battles are no longer won by big marketing dollars, but strategic, clever and genuine relationships between brand and their customers.

This Mastery program is developed for people who want to build a world class brand through highly strategic and dynamic processes which will give their brand sustainable advantages that will turn your customer to loyal fans of your brand.

This program is a powerful qualification that will enhance your market performance, allow you to build your own brand, and impact other brands as a brand consultant.
Key Benefits of attending this mastery certification:
Immerse yourself in the world of brands, get the new paradigm of holistic branding, and how it can make, or break, your business.
Master your brand, and shape it into a winner through highly proven methodology, research tools and frameworks at your disposal.
Challenge your preconception by learning new consumer trends, new branding tactics, and new technology you can employ to build intimacy with your customers.
Win your customers' heart and allegiance via strategic branding, aligning experiences to brand values and promises.
Tap into our speaker's - a global brand consultant - mind. The mastery program is led by real-life practitioner who had worked with more than 1000 brands worldwide.
Level 1: Certificate in Brand Management
2 phases
Phase 1- workshop

Complete Level 1 of the Brand Mastery programme (2-DAY WORKSHOP)

Phase 2 - Assignment & Project

2 writing assignments and 1 mini-project on an actual branding exercise (either own project or to be involved/assigned to work on our own live project as part of practical live training.
Level 2: Advanced Certificate in Brand Management With The Title "Certified Brand Strategist, IPMA, UK"
3 phases
Prerequisite - Completed Certificate in Brand Management (Level one)
Phase 1- workshop

Complete Level 2 of the Brand Mastery programme (2-DAY WORKSHOP)

Phase 2 - coaching & assignments

3 individual (or small group) coaching - either face-to-face or online

2 written assignments on a live branding project

Phase 3 - live project presentation and assessment

Participant will be assessed based on the performance of the live branding project (own client) and will have to present the outcome of the project with a complete written report of the project.
Information on The Workshops
CERTIFICATE IN BRAND MANAGEMENT
DAY 1
STRATEGIC BRAND MANAGEMENT

The first day of the program is developed for people who want to understand the dynamic process of building a world class brand. You will be guided in understanding the power of brand and how it will impact your bottomline.

On this day, you will lay a strategic foundation in building your brand in the future, and learn how you proactively (and creatively) nurture your brand by understanding the strategy behind brand management.

You will get various templates, tools, frameworks that you can use right away. This workshop is fun, interactive, realistic and gives you opportunity to learn by doing through well-thought, relevant activities and mock projects.
Day One Modules

An Intro to Brand Strategy

What is a brand? - a reintroduction to branding, the essence of brand as commitment & promise
The collapse of distinction - why brand matters in this super competitive market
The 5C's of great brands
Brand development process - the right methodology in building world class brand

Research - Understanding the Landscape

The importance of research
Knowing yourself - the methodology
Knowing yourself - building a questionnaire
Competitors - knowing your adversaries
Competitors - comparison analysis
Consumers - identifying your customers
Consumers - research methodology

Strategy - Laying the foundation

Brand DNA - developing your vision, mission and values
Brand Communication Platform - developing your brand personality and message
Brand Positioning - differentiate your brand in tangible & emotional ways
Brand Architecture - building the foundation for brand expansion

Internal Alignment (abridged)

Bringing your team into the same page
Communicating your brand internally
Translating your brand strategy into actionables

STRATEGIC BRAND COMMUNICATION
DAY 2
On the second day, participants will be guided in translating their brand strategy into strategic communication efforts. By leveraging various new consumer trends, paradigms and new technology available to project the brand to its target audiences, participants will be able to build an advantages to turn customers into loyal fans of the brand.

Participants will get various templates, tools, and communication frameworks that are relevant for the current communication trends.
Course Modules

Identity Development - Building Visuals

The importance of building consistency in projecting your brand visually
Understand the visual elements that are used in communicating your brand
Develop visual guideline to ensure consistency of your brand communication
How to brief your creative people

Brand Experience - Delivering the Brand (Abridged)

Mastering your brand through consistent delivery
Identifying key touchpoints where your bran interacts with your customers
Developing brand touchpoints map
Translating your brand strategy into tangible look and feel
Building your brand touhcpoints guideline

Strategic Brand Communication

Identifying your key media by considering target market behaviour
Strategising the way to reach your key audiences
Translating your brand strategy and values to build the relevant message that nurture connection to your audiences
Utilising the traditional media, below and above the line
Harnessing the power of social media campaign

Championing Your Brand

Be the leader that brings the change
How to motivate your team
Being a brand ambassador

ADVANCED CERTIFICATE IN BRAND MANAGEMENT "CERTIFIED BRAND STRATEGIST, IPMA,UK"
Internal Branding
DAY 3
In Advanced Brand Strategist, participants will be guided to translate their brand strategy for the brand internal stakeholders. This program will put emphasis on the importance of living the brand, delivering the brand promise as well as the method, tools and strategy to build the brand from within
Key Benefits

Get the capability to assess your internal brand health with proven diagnositic tools that have been deployed in many global brands
Unleash the organisation's most potent assets - the employees, and harness them to build a positive, supportive culture that is aligned with what the brand stands for.
Identify key touchpoints of your organisation that will provide the moment of truth between your brand and your customers.
Design, revamp and improve your key touchpoints to deliver the right branded experience to your customers using Industry standard tools
Acquire tools and ideas to motivate, encourage and push your employees to the next level, making them the best brand ambassador.

Morning Modules

An Intro to Internal Branding

Understanding Internal Branding
Internal Branding as a sustainable competitive advantage

Understanding Your Employee

The importance of research
The methodology of gathering data
Developing an internal questionnaire
Leading an internal Focus Group

Building Internal Brand Strategy

Internal Brand DNA - Translating your Vision, Mission and Values internally
Internal Communication Platform - Developing your internal brand message
Brand Positioning - Differentiate your brand in tangible & emotional ways
Develop an Employee Value Proposition statement

Afternoon Modules

Touchpoint Mapping

Identifying your internal touchpoint
Prioritising touchpoint based on effectiveness and relevance

Internal Communication Campaign

Setting goals
Building your internal brand into your KPI
Develop communication plan for awareness, maintenance and promotion objectives
Developing budgets
Choosing tactics and ideas to reach everyone in the organisation

Measurement & Support System

Aligning your organisation support system to the internal brand values
Developing the right Reward & Recognition system
Measuring the result of your internal brand effort

MASTER BRAND STRATEGIST
Day 4
Branded Customer Experience & Branding 4.0

Master Brand Strategist is the ultimate certification program that leverages upon all knowledge from the two previous certification programs, and bring these to the next level. In this certification, participants will be assisted to bring the brand to the one that matters, the customers, by developing, planning and executing the right brand experience through real and virtual world.
Key Benefits

Delve into your customers mindset, understand the decision making behind the purchase, and why experiences are worth a premium
Build a master plan to deliver your brand to your customer by identifying key touchpoints, designing a unique value proposition and translating this into expectations for your team
Leverage various new key communication tools like social media, websites, forums and virtual communities to strengthen your brand.
Manage your communication campaign using the right tools to achieve high level of effectiveness.
Share ideas and real world tactics with a trainer and facilitator who has decade of experience working in the industry.

Morning Modules

Experience Economics

What is experience economics?
Consumer trends - paying premium for experiences

Consumer Profiling

Identify your customers
Developing your customers profile
Understanding their expectations through research

Building Brand Experience Map

Developing customer value propositions
Identifying your key customer touchpoint
Assigning customer expectations to each interaction point
Translating your brand values into behaviours in each touchpoint
Developing a touchpoint standard for each key touchpoint

Afternoon Modules

Branding 4.0

The Internet Revolution
New consumer trends - the super connected people
Online branding
Key drivers of Brand Credibility
Introduction to social media and mobile marketing
Why use social media to build your brand?

Strategic Social Media Campaign

Social media tools and platforms
Leveraging social media and networks for effective brand strategies
The pitfalls of using social media
Aligning your social media campaign with your brand strategy
Building buzz, creating connections and meaningful conversations through social media
Case studies - creativity in using social media
Who Should Attend?
Created by Jerome and his team of highly experienced brand consultants, this programme is tailored for:

Directors, VPs, GMs, Heads, Managers, Team Leaders & Executives of:
Branding
Advertising & Promotion
Marketing
Corporate Communications
Sales
Business Development
Entrepreneurs and Business Owners
And anyone who wants to acquire advanced skills and knowledge in branding.
What Others Said
"Very current, very real, very good!!"
Hamdan Khalid, Head of Marketing, Heitech Padu Bhd

"Really enjoyed the workshop! I've gained so much insight into experience marketing & the latest TRENDS!"
Indira Menon, BD Manager, Prince Court Medical Centre

"Your session on experience marketing at the Special Events Congress in LA was the best of the lot. Your videos, ideas, case studies and trends have really help me understand how to create brand plan."
Nicole Silver, CEO, Silver Productions (US)

"Jerome, Your insights on Brand Strategy and Branding 3.0 is very thought provoking, it has helped us build our brand more effectively"
Fred Fong, Marketing Manager, Pfizer Global
Leader/ Master Trainer
Jerome Joseph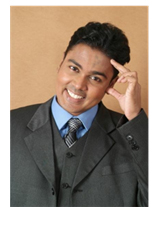 World Acclaimed Speaker & Best Selling Author of "Internal Branding: Building your Brand from Within", "The Brand Theatre: Staging ExtraOrdinary Branded Customer Experiences" and "Turn me ON: A Guide to Personal Branding"

Jerome Joseph is the Brand Engagement Director and Head Brand Coach of The Brand Theatre Worldwide Group, a corporate brand consultancy and training agency.

As a consultant and trainer, Jerome has built up a wealth of practical experience, working with organisations in Asia Pacific since 1997 such as BASF, Pfizer, Dell, Standard Chartered and many more, developing some of the latest thinking and practices, focusing on how organisations can achieve differentiation and internal/external loyalty through mastery of branding.
The certification will also be supported by several co-facilitators who are renowned brand strategists who have helped clients grow into multi-million dollar businesses
TBT:Culture
TBT:Culture is the brand culture consulting arm of The Brand Theatre Worldwide Group. We have created legions of employees who live the brand and deliver a branded customer experience that "WOWed" customers as well as coached leaders and employees through our brand performance training programmes.
The Brand Theatre Worldwide
The Brand Theatre Worldwide Group is the holistic brand consultancy. We help B2B, B2C and government organisations launch world class brand performances driven by the inside and performed on the outside.